Regular price
Sale price
$48.00 USD
Unit price
per
Sale
Sold out
Turn your special occasion into a magical event with our Deluxe Santa costume. Our high-quality outfit and accessories make for a believable Santa character that will wow your guests. Transform any occasion into a memorable fun time that will be cherished for years!
Choose from Standard Fit (suits L to 3XL) or Extra Large Fit (suits 4XL - 5XL)
Hire Fee: $77
Refundable Security Deposit: $70

TO BOOK: Send through an online enquiry first. HERE IS THE LINK. Once your booking is confirmed, we will direct you through to payment. 
NOTE: Hire period is for no more than 24 hours, unless otherwise arranged.
Our Deluxe Santa costume includes:
Jacket

Pants
Belt
Wig
Beard
Hat
Gloves
Glasses
Bell
Sack
Boots
Share
View full details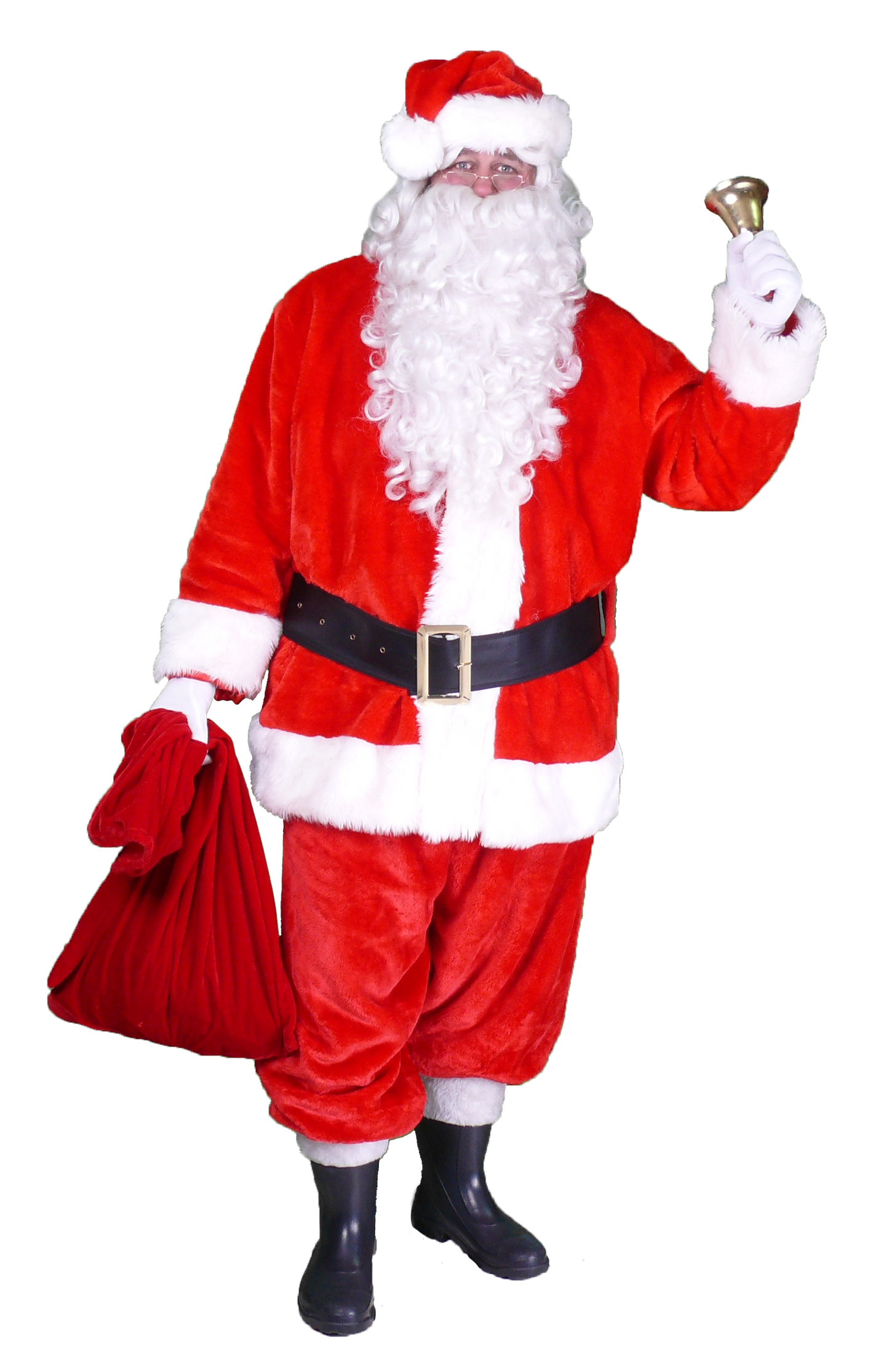 COSTUME HIRE FAQS
HIRE vs BUY - WHY HIRE IS BEST!

Ok, so we all know there are many places to buy a cheap costume. It can be super tempting to click "Buy" when you see a picture of a costume online that you like, but before you commit, consider these points.

1. How many times are you going to wear the same costume?

These days, especially with social media, every single one of your friends is likely to see photos of you in your costume. Do you really want to wear the same costume again next time?

2. What's quality worth to you?

The fair majority of costumes sold online or from packets are cheaply made garments with very little attention to detail. The materials are flimsy, the edges aren't finished, the over-locking is showing and the seams can split on the first wear. Hiring a professionally made costume will make you look and feel like a million dollars, whereas that $20 knock off will make you feel... let's face it... cheap.

3. Are you going to actually get what you THINK you are getting?

Photos can be completely misleading, especially in costumes. The photo on the website looks amazing, but when you get it you realise it's nothing much like what was pictured. Why is that? Well, millions of dollars are spent designing, producing and photographing the top-of-the-line, very expensive couture costume ranges so they look as good as possible. When another company rips of the design and makes a cheap knock off version, they don't see anything wrong with using the original image of the costume they copied (go figure?!). So the photo you thought looked amazing is of a totally different item, one that would have cost a whole lot more. Hiring costumes ensures that what you see is definitely what you get!

4. Accessories can make all the difference.

Let's say you want to be the Queen of Hearts. First you buy the dress, then realise it didn't come with a crown so you buy that too. Then you realise it needs a tulle skirt (petticoat) underneath it to make it look remotely like it did in the picture. So there's some more money. Then you want to add some shoes, perhaps a wig, before long you've spent so much more than you intended. When you hire a costume, all the accessories (apart from disposables like stockings, eyelashes etc) are included with your hire. We add the finishing touches that make you stand out from the rest.

5. Fit and flatter, or squish and bulge?

So the costume you have your eye on online has a "Size Chart". Awesome, right? You take your measurements carefully and order what appears to be the correct size. Now you've received it and excitedly tried it on to realise that it's too loose in one part and too tight in others! What the?! No two bodies are the same but perfect fit in costuming is totally achievable when you've got years of experience in the field. We know the cut of our costumes and what styles will flatter your body type. Let us make suggestions about sizing and use our styling tricks to get the outfit to look like it was custom made just for you.

SO forget the cheap, nasty duds and let us help you look a million bucks without paying through the nose.
WHAT ABOUT SIZING?

Costumes from size ladies 6 to 30, mens size XXS to 7XL and all kids sizes. Not all costumes come in all sizes but we want to make sure you look amazing so let our team help you get the best fit regardless of size. None of that "one size fits all" malarkey around here!
HOW MUCH ARE THE HIRE FEES?

Most people are surprised how affordable hiring a costume is! Our adult costumes are usually either $33, $44 or $55 to hire. There are some exceptions to this, for example the big fluffy animals or mascots can cost $66. Kids costumes are generally around $22, again with very few exceptions.

When you hire any costume, there is also a security deposit which is usually around the same amount as your hire fee. For example, if you hired a $33 costume, your deposit would be $30, a $44 costume would be a $40 deposit and so on. This security deposit is refunded to you on return of the costume, assuming it is returned on time and in good condition. See "Terms and Conditions of Hire" for more info on the security deposit.